Saturday, September 7th & Sunday, September 8th
9:00 AM – 4:00 PM
Extra classes on Friday, September 6th (pre-registration required)

The 2019 Gourd and Fine Art Festival will be held in the middle of the Shenandoah Valley in Amador County, CA. It will be amongst several well-known wineries and held at the gorgeous Amador Flower Farm
There will be the Northern California Gourd Competition, 3 days of classes, vendors, fine art booths, a gourmet food truck, demonstrations throughout the weekend, and more!
Northern California Gourd Competition
During the festival, the California Gourd Society will be hosting their Northern California competition, with the prizes awarded to the best gourds in many categories, including:
Pyrography
Coloring Techniques
Distinctly yours
Dazzle us
Embellishments
Filigree
Natural and fiber art
No Limits
Show us what you can do
Wildlife
Amador Flower Farm Special Category
There will also be a special category honoring Amador Flower Farm. This category will be judged by the Amador Flower Farm staff. See rules for more information.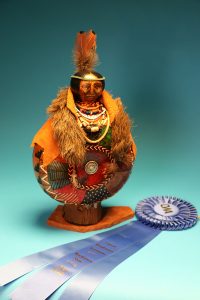 Festival Activities
classes by 3 award-winning gourd artists
(pre-registration required)
Northern California Gourd Competition
raffled prizes (plus a special raffle)
gourmet food truck
vendors
demonstrations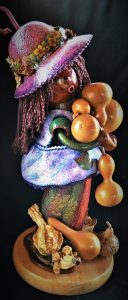 This stunning gourd, made by featured artist Joyce Campbell, will be the prize for our special raffle.
Featured Instructors
Brenda Blackwelder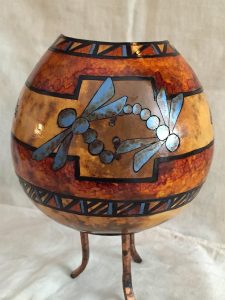 Brenda has created art her entire life one way or another. In college, she found design to be her favorite. Over the years, she has worked in different medias, including wood burning and carving. After finding gourds, she fell in love!
Brenda enjoys using all of her learned skills to create art on
gourds.
Joyce Campbell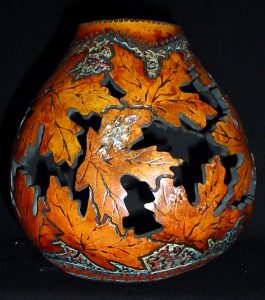 Joyce Campbell had a chance meeting with gourds over 25 years ago, and it changed her life completely! Art was always a big part of her world, but there is something different about gourds. The gourd offers a gateway to many disciplines leading to endless possibilities. To master gourd art, she learned to wood burn, carve, coil, dye, filagree cut and so much more. Her time is now spent teaching, competing, doing gallery work and festivals, talking to a wide variety of groups and, some years, even growing her own manipulated gourds. Gourd art offers something for everyone at every level of expertise. It accommodates various styles and direction. That is quite a lot to say about a humble little gourd grown in your garden. It truly is Nature's gift to the artist!
Vendors
We are looking for gourd-related vendors and fine artists to join us in our festival. We have inside booths and outside spaces available. If you'd like to be part of this exciting festival, please apply here.
Location
The 2019 Gourd & Fine Art Festival will be held at the beautiful Amador Flower Farm in Plymouth, California.
Nearby Amenities
In addition to the festival, Amador County has many restaurants, places to see, and things to do. Some common locations are listed below, but you may also want to contact the Amador County Chamber of Commerce. Keep in mind that this is a popular time of year, so book early!
Dining

Note: there are several restaurants relatively close to the venue, but none close enough to get lunch during a class lunch break. We will have a gourmet food truck onsite on Saturday and Sunday, but if you are taking a class on Friday, you are strongly suggested to either pack a lunch, or order a sandwich, which we will deliver to you.
Featured Classes
Friday Classes
Saturday Classes
Sunday Classes